N ° de modèle: SJ500-1700 Matière première: diamètre de vis de PE: 90mm informatisé: non-informatisé Certification: CE, ISO9001: 2008, SGS, GMP Marque déposée: JINDA Origine: Zhejinag China Type: Multi-Layer Co-extrusion Film Blowing Machine Maximum Largeur pliante du film: 2500mm Automatisation: Automatique Poids de la machine: 4T Couleur: selon les spécifications requises: CQC, ISO9001, SGS, CE Code HS: 8477309000 Machine à soufflerie multicouches à coextrusion.
Une innovation du dispositif de traction rotative, rendant le film lisse et uniforme.
Avec une structure raisonnable, la machine économise beaucoup d'énergie et est facile à entretenir. Au moyen du dispositif de renvoi, la structure de la tête de départ est simplifiée. Le film est plat et transparent avec une haute qualité et une vitesse d'extrusion. Si la machine est avec IBC (Internal Bubble Cooling System), elle peut produire du film avec la qualité de performances plus transparentes et meilleures. Le film produit est très plat, la bobine est de haute qualité à l'aide d'un dispositif de renvoi. Le film peut répondre à la demande d'impression à grande vitesse.
Technical parameters
Type
MB-1300
MB-1500
MB-1700
MB-2200
MB-2700
MB-3200
Max Width(mm)
1200
1400
1600
2000
2500
3000
Film layer
3/5/7
Film thickness(mm)
0.012-0.2
0.012-0.25
Max output(kg/h)
140
180
240
280
350
450
Raw Material
MLLDPE/LLDPE/LDPE/EVA
Screw Diameter(mm)
55*3
60*3
65*3
75*3
80*3
90*3
Screw L/D ratio
30:1
Extruder Driving power
22
30
37
45
55
75
way of screen change
Hydraulic/Manual twin-station changing screen quickly
Die structure
Optional:IBC system(Internal Bubble Cooling)
Air-ring structure
dual-lip
Reversing Haul-off system
Film Turning Mode
±180/±360
Angle of Reversing
±180
Take-off and wond-up Speed
80m/min
Total power
85
110
140
160
180
220
dimensions
10*4*9
10*4*9.5
11*5*10
12*5*12
13*6*12
15*7*13
Weight(T)
20
25
32
40
50
60
The machine can realize PLC programming and controlling by touch
PS.
The data above may be changed tinily during different time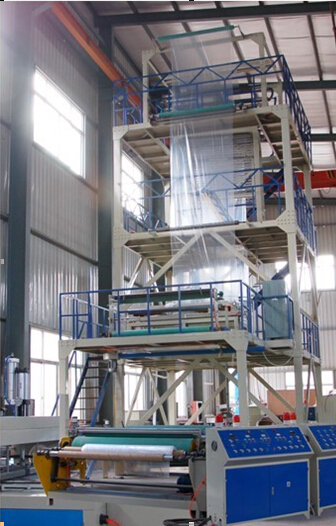 Haute qualité avec système IBC PLC, système de décollage. Pour produire un film de qualité à haute vitesse.
Groupes de Produits : Machine de coextrusion de couche 2/3/5/7